---
info@elementict.com.au | (02) 9482 4030
#lightinghiresydneynorthshore
---
---
Enhancing your wedding venue with light to create beautiful romantic ambience
---
When lighting is used correctly, it takes a venue to the next level, and our wide range of lighting will ensure that your venue quite literally glows with subtle ambience.
We can assist you with every element of your wedding event lighting requirements, through washing a venue inside and or outside with colour to bringing a beautiful ambience to your dinging areas with festoons and accent lights to providing effect and general venue lighting if you've booked a band or DJ for your evening celebrations.
With experience in designing and proving lighting for a huge range of venues, from marquees to hotels, rustic country settings through to historic buildings, our team is able to provide advice and the right lighting product to make your vision come alive.
Our products include both indoor and outdoor capable lighting units, so we can light the approach to a venue, building facades, gardens and features.
With professional quality wireless controlled rechargeable lighting products in our hire inventory, lighting units can be installed without the fuss and aesthetic issues of cables, and are able to be discretely positioned to light columns, interior features, displays, flowers and more.
We can work with your existing design and event team, liaise with your venue or even assist with every element of your wedding lighting and sound requirements and we also offer full event management and MC services.
---
Popular wedding lighting items include our:
Festoon lights from $49 per evenng for a 10M length (we can supply up to 200M  of modular festoons)
High quality low output fairy lights from just $25 per 20M string
External weatherproof venue wash lights from $45 per evening per unit
Internal portable long duration battery powered washes with wireless control from $49 per evening per unit
Accent lights and spots from just $20 per evening per unit
Wash lighting from $25 per unit per evening
Effects lighting from just $30 per unit per evening
---
Call us on (02) 9482 4030 to discuss your wedding lighting requirements in further detail, or contact us to request further details or a quote and availability for specific hire items.
---
Alternatively, if you already know the product type that you required, our event lighting overview page provides further details and current hire pricing.
Wash lights and festoons create a beautiful ambience
---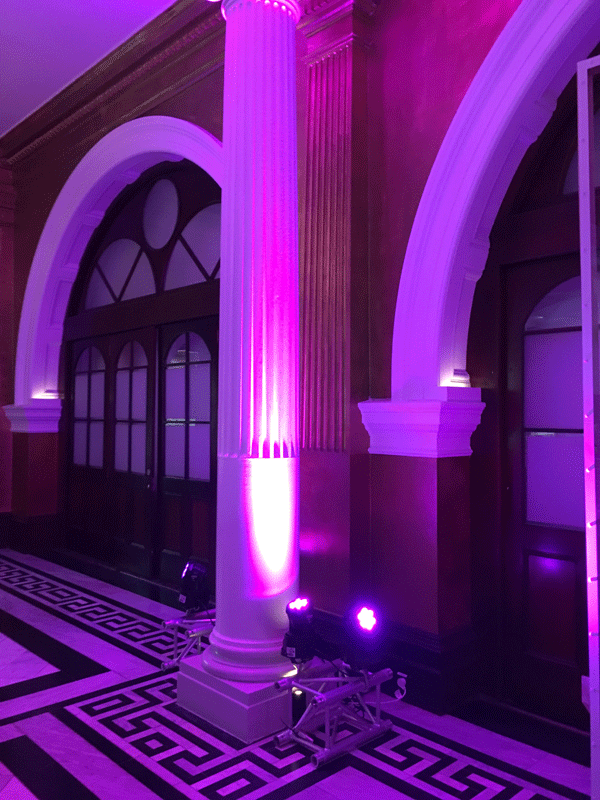 Small but powerful wash lights are ideal for highlighting building or interior features
---
Spots and accent lights can be employed to focus light on specific items